POWER GENERATION
We have been involved in the design and construction of over 9,000 MW of coal,
gas and solar power plants.
Designing and Building Success
As a recognized industry leader, Lauren has established a successful track record in the Power Generation industry. We approach each project from a whole-asset perspective which enables us to deliver excellence in safety, cost, schedule, quality and overall performance. We work with our clients to maximize their return-on-investment for capital projects to help them better compete in the marketplace. When our clients succeed, we succeed.
Power Generation Capabilities
Simple Cycle Gas Turbine
Combined Cycle Power Projects
Cogeneration
Combined Heat and Power (CHP)
Reciprocating Engine Projects
Coal Fired Power Stations
Concentrated Solar Power (CSP)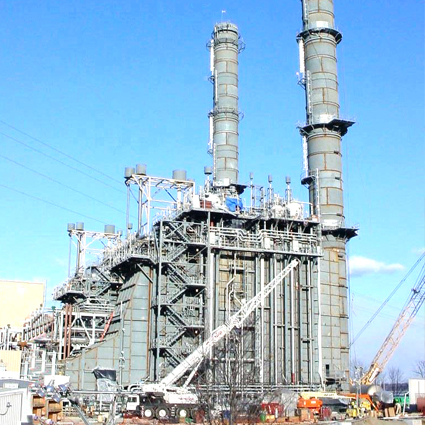 550 MW Combined Cycle
Dominion Energy | Dumfries, Virginia
Lauren was the General Contractor for the installation of a 550 MW combined cycle power plant. The project consisted of 2 GE 7FA combustion turbines, two heat recovery steam generators, one 200 MW steam turbine, one 8 cell cooling tower, water treatment facility, one 2-million gallon demineralized water storage tank, one 2.25-million gallon fuel oil storage tank, fuel unloading facility, three GSU transformers, all underground duct banks and utilities, 96″ circulating water system, piping river water intake pump system, and final site work/roads. The project was located in an existing coal fired power plant facility. The project was a ground up installation through start-up and commissioning.
Ector County Energy Center
Invenergy | Goldsmith, Texas
Invenergy awarded the General Contractor role to Lauren for the installation of two gray market General Electric 7FA gas turbines at a greenfield site north of Odessa, Texas. Lauren's scope of work included site preparation, mud matts, foundation installation, steel pipe racks, building erection, skid and equipment installation (turbine, generator), inlet duct and exhaust system, pipe fabrication and installation, painting and insulation, electrical and instrumentation, and final grading and paving.
Five Unit Simple-Cycle Power Facility
Old Dominion Electric Cooperative | Gordonsville, Virgina
Lauren was responsible for the greenfield installation of four dual fuel GE 7EA's and one dual fuel GE 7FA combustion turbine. Project scope also included fuel unloading and storage facility, gas conditioning equipment, startup and commissioning and plant building. The project was completed in 14 months – from award to commercial operation.
225 MW Combined Cycle
Black Hills Corporation | Las Vegas, Nevada
Lauren was awarded a contract for the Engineering, Procurement and Construction of an additional 225MW of generation capacity to Black Hills' Las Vegas Cogeneration II Power Plant. The scope of work included four LM 6000 gas turbine generators in combined cycle, two 28 MW steam turbine generators, four once-thru heat recovery steam generators, gas turbine inlet chilling systems and all required balance of plant equipment.
Cogeneration Facility
CNRL | Alberta, Canada
In June 2006, Canadian Natural Resources Limited (CNRL) contracted Lauren to perform Construction Management services to assist with the installation of a new Co-Generation plant in Ft. McMurray, Alberta, Canada. The scope of Lauren's work included managing the construction execution plan up to the pre-commissioning activities for all Co-Gen plant facilities, including water treatment, steam and power generation block, natural/fuel gas system, transmission and main substation, and satellite operations center.
Holden Power Plant
Associated Electric Cooperative, Inc. / Siemens Westinghouse Power Corporation | Holden Missouri
Lauren designed site work, concrete structures, plant buildings, balance of plant mechanical systems and balance of plant electrical systems for three simple cycle Siemens V84.2 combustion turbines.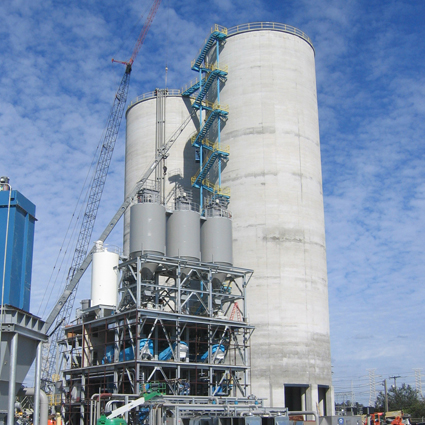 Ash Separation Facility
Separation Technologies, Inc. | Gibsonton, Flordia
In December 2006, Separation Technologies LLC awarded Lauren an EPC fixed-price contract for a fly-ash separation facility. The groundbreaking for construction ensued during March 2007. Using proprietary electrostatic technology, this STI plant processes the fly ash by-product of coal-fired power plants through carbon separation and ammonia removal in an eco-friendly manner. Project systems include dust collection and appurtenances, ash conveying, storage, as well as controls for ash and carbon handling. This project was located at Tampa Electric Power Company's Big Bend Power Plant in Gibsonton, Florida. The new facility operations commenced the second quarter 2008.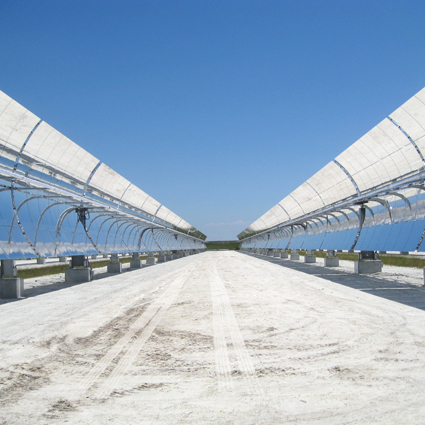 75 MW Concentrated Solar Power Plant
Florida Power & Light | Indiantown, Flordia
Lauren served as the Engineering, Procurement and Construction contractor for this 75 MW Concentrated Solar Power Plant located near Indiantown, Florida. At project completion, this landmark solar project achieved several milestones for solar power: the second largest solar thermal power plant in the world; the largest solar thermal plant outside of California; and the first hybrid solar facility in the world to connect to an existing combined-cycle power plant. This plant, named the Martin Next Generation Solar Energy Center, is located on 500 acres of land adjacent to FPL's Martin Power Plant. Commercial Operation was achieved in December 2010.
Lignite-Fired Power Plant
San Miguel Electric Cooperative | San Miguel, Texas
Lauren was responsible for all design and procurement of this greenfield, single-unit, lignite-fired power plant for the San Miguel Electric Cooperative. The plant burns Texas lignite and is located at the mine mouth. The plant has a generating capacity of 450 MW. The back-end environmental control equipment includes an electrostatic precipitator, SO2 scrubber and flue gas desulfurization waste treatment system. The plant is designed for zero discharge and is recognized for its low $ cost per KW and high availability.