OIL AND GAS UPSTREAM
We provide expert design and construction of well sites, processing plants and
related facilities to help clients minimize time to production.
Designing and Building Success
As a recognized industry leader, Lauren has established a successful track record in the Power Generation industry. We approach each project from a whole-asset perspective which enables us to deliver excellence in safety, cost, schedule, quality and overall performance. We work with our clients to maximize their return-on-investment for capital projects to help them better compete in the marketplace. When our clients succeed, we succeed.
Oil and Gas - Upstream Capabilities
Oil Facility Engineering
Well Site Construction for:

Mineable Oil Sands
Coalbed Methane
Shale Gas
Heavy Oil and Steam-Assisted Gravity Drainage (SAGD)

Gas Processing, Fractionation Plants and Sulfur Blocking Facilities
Maintenance and Turnaround
Compression and Rotating Equipment
Energy Management, Optimization and Troubleshooting
Jumping Pound Sour Gas Plant
Confidential Client | Fort Saskatchewan, Alberta, Canada
Lauren was the EP contractor for the optimization of the fractionation train and was related to expansion upgrades to receive new raw gas volumes. The largest project was the Engineering and Procurement to upgrade the boiler feed water plant to current technology of micro filtration and reverse osmosis processes. Specific projects executed at Jumping Pound were:
Frac Plant Model
Advanced Controls
Condensate Storage
Moose Whiskey Inlet
De-methanizer Operation
Depropanizer Operation
Debottleneck DBM
Condensate Stabilizer
Water Treatment Plant Upgrade
Sweet Gas Bypass
Ladyfern Gathering System
Merphy Oil Company | British Columbia, Canada
Lauren provided Engineering, Procurement and Construction Management services for a 150 km high-pressure (sizes 6" though 12') insulated sour gas gathering system and sales line for a 500 MMscfd project in N.E. British Columbia.
Doris / Thunder Gas Gathering System
Nexen, Inc. | Alberta, Canada
Lauren provided Engineering services for a 25 padsites/90 well gas gathering and water disposal system. The project included a 60 km CBM 150# ANSI gas gathering system, 4" Flexsteel, 6", 8", and 10" steel and a 50 km of CBM water gathering system 4" HDPE.
Pelican Lake Gathering System
Encana Corporation | Alberta, Canada
Lauren provided Engineering, Procurement and Construction Management services over a 10-year span for the grass roots development of Pelican Lake. The development of the property started in 1997 and the expansion and optimization of the design continued until 2006.
Lauren designed and constructed 140 padsites and associated gathering systems over the long-term contract. Each padsite was connected by three pipelines: one for emulsion, one for gathering produced gas and one for condensate blending. In total, approximately 200km of heavy oil gathering system, sizes 4" through 16", was designed and constructed. The central processing facility was developed for 20,000 BOPD. Polymer flood equipment was also installed.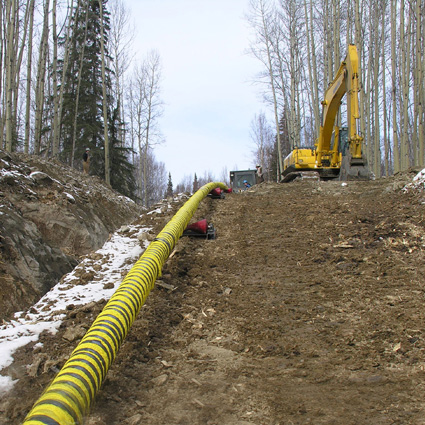 Cold Lake Pipeline Expansion
Husky Energy | Alberta, Canada
Lauren was the Engineering, Procurement and Construction Management contractor for the addition of 180 km of heavy oil transmission pipeline. Sizes 6" through 16", including blending condensate pipelines.