MODULAR
Our modular capabilities reduce field labor requirements and costs while improving
quality and on-time delivery.
Designing and Building Success
As a recognized industry leader, Lauren has established a successful track record in the Power Generation industry. We approach each project from a whole-asset perspective which enables us to deliver excellence in safety, cost, schedule, quality and overall performance. We work with our clients to maximize their return-on-investment for capital projects to help them better compete in the marketplace. When our clients succeed, we succeed.
Modularization Capabilities
Full-Scope Module Assembly, Including E&I, Heat Trace and Insulation
Industry-Specific Experience with:

Oil and Gas
Water Treatment
Refining
Power

Full-Scope Engineering and Procurement as Needed
Space to Trial Fit All Modules without Double Handling
Front-End Module Constructability Support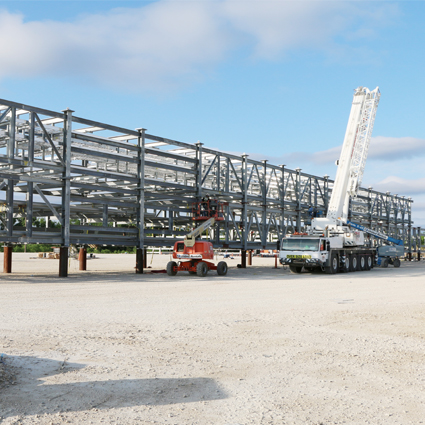 Modular Pipe Rack Assemblies
HollyFrontier Corporation | Woods Cross, Utah
Lauren fabricated 19 pipe rack modules in support of an EPC contract for a refinery expansion.  The module scope included fireproofing (Chartek), hydrotesting, steam tracing, insulation and cable tray. Modules were assembled pre-staged in our yard to assure alignment.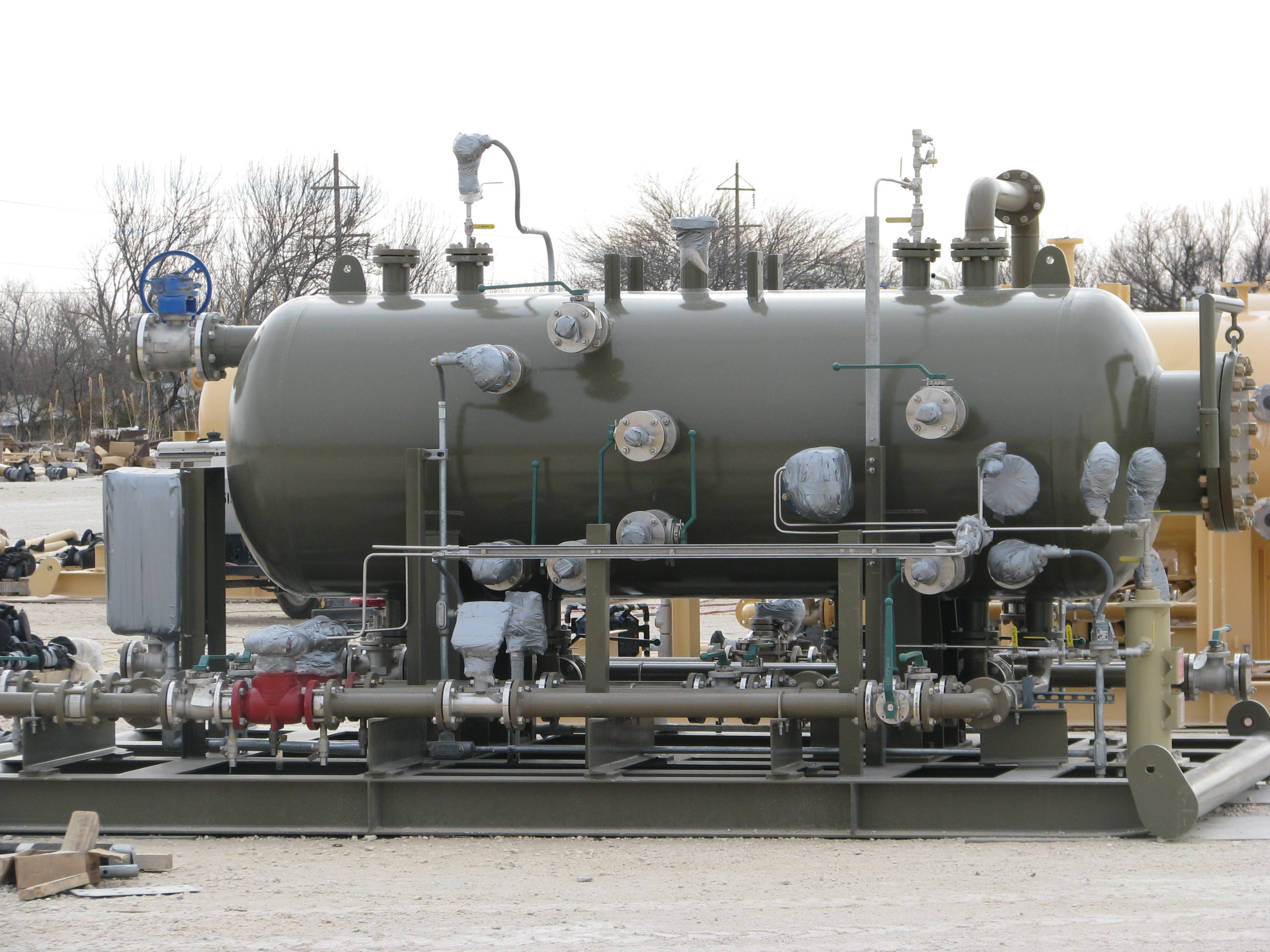 Production Separator Skids
Occidental Oil & Gas | Various Permian Basin Sites, Texas
Lauren completed a contract for the fabrication and assembly of 71 Production Separator Skids for Occidental Oil & Gas. The full work scope included pipe and steel fabrication, painting and erection of 28 – 8 x 20 vessel skids, 16 – 6 x 20 vessel skids and 27 – 4 x 10 vessel skids at Lauren's Abilene Fabrication Facility. Shipping of the skids to various sites across the Permian Basin was also included in Lauren's scope of work.
Process Equipment Skids
Hess Corporation | Tioga, North Dakota
Lauren received a contract from Hess Corporation for the fabrication of 14 large process equipment skids, designed by Mustang Engineering, to be installed at Hess's Tioga Gas Plant in North Dakota. The scope of this project included the fabrication of 14 process skids (15' x 60' x 12'), weighing between 60,000 and 100,000 pounds. In addition to the fabrication of each unit, Lauren performed a trial fit of the modules, up to four modules high. Lauren's scope also included fireproofing, hydrotesting, pipe heat tracing, insulation, instrumentation wiring, cable tray and lighting.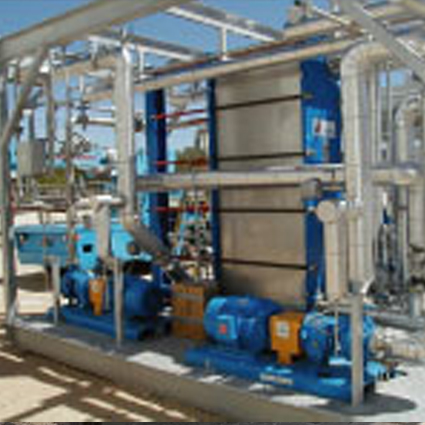 Process Equipment Skids
GE Water / RCC | Various Locations
Since 1996, Lauren has designed and fabricated 16 projects for this client, including several water treatment equipment skids, along with associated access platforms and ladders for power projects requiring recycled water. Skids are shipped complete with all piping and electrical installed and tested for ease of installation on site. The client furnished P&ID's, specifications and major equipment.
Selexol and CO2 Fractionation Plant
International Alliance Group | Fort Stockton, Texas
Lauren has executed four contracts for the fabrication of modular pipe rack assemblies and process skids for the Selexol and CO2 Fractionation Plant in Fort Stockton, Texas. As part of this work, Lauren built and assembled 24 pipe rack modules (900' in total length), with over 17,000 linear feet of pipe and an estimated 638 tons of structural steel. All modules were first staged at the Lauren Fabrication Facility in Abilene, Texas. Each module, up to 16' x 16' x 90' and 100 tons, were then disassembled and delivered for final assembly at the Fort Stockton project site.
Additionally, Lauren fabricated four parallel pipe rack modules (800' in total length), utilizing over 11,400 feet of linear pipe, as well as an estimated 548 tons of structural steel. The scope also included 24 process skids (60' in average length) and entailed the use of over 12,000 feet of linear pipe, as well as an estimated 537 tons of structural steel. Each skid measured up to 20' x 20' x 60' and weighed in at around 30 tons. 13 of the skids were assembled in Abilene, with 11 being shipped loose for assembly at the project site in Fort Stockton, Texas.
Martin Solar Energy Center Pipe Fabrication
Florida Power & Light | Indiantown, Florida
Lauren's fabrication facility in Abilene, Texas, supported the 75 MW Martin Next Generation Solar Energy Center with the fabrication of large bore steam piping for the power block area, heat transfer piping loops in the solar field, and fabrication of the process equipment skid that was part of the heat transfer fluid system. Over 2,100 spools of carbon steel (average size three inches) were fabricated, using more than 27,000 linear feet of pipe. This facility also fabricated and assembled a Ullage skid using 50 spools, also averaging three inches. All materials on this project were delivered on time, with a rejection rate of only 1.37%.
This project was located in Indiantown, Florida, and is the largest-capacity solar thermal plant to be built in the last two decades and the second largest in the world. It is also the first hybrid solar facility in the world to connect to an existing combined-cycle natural gas power plant.
Combined Cycle Expansion Modules
Bosque Power Company, LLC | Laguna Park, Texas
Lauren fabricated eight pipe rack modules for this project. Modules included piping for main steam, hot reheat, cold reheat, low pressure steam and other utility systems. Piping was fabricated complete with all necessary pipe supports, painting, heat trace and insulation. This project was coordinated closely with the job site for delivery sequencing, minimizing site lay-down and congestion.
Amine Skids
NATCO – National Tank Company \ Houston, Texas
Lauren has performed numerous contracts for fabrication of separator vessels along with Amine process equipment skids for this repeat client.